SMEC SL 2500
Strongest in its class with superb structural design.
Simultaneous heavy duty and precision turning.
45 degree torque tube type bed to support heavy duty turning
Significantly reduced non-cutting time and efficient turning
Low-center of gravity reducing vibration, thermal deformation and improving rigidity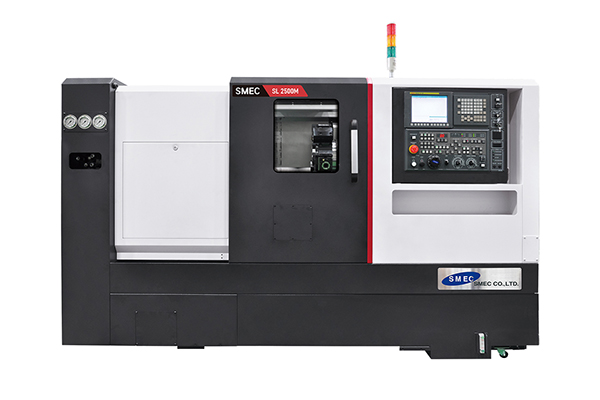 DESCRIPTION
SL 2500 (8″)
SL 2500XM (10″)
Chuck
Chuck size
inch
8"
10"
Capacity
Swing over bed
mm
650
650
Swing over cross slide
mm
480
480
Max. turning diameter
mm
430
405
Max. milling diameter
mm
-
433
Max. machining length
mm
570
767
Spindle
Spindle speed
rpm
4500
3500
Spindle nose
ASA
A2-6
A2-8
Draw tube ID
mm
68
77
Spindle bore diameter
mm
78
86
Spindle motor (Cont./Max)
kW
15/18.5
15/18.5
Travels
X-axis travel
mm
245
245
Z-axis travel
mm
600
820
X-axis Rapid traverse rate
m/min
24
24
Z-axis Rapid traverse rate
m/min
30
30
Turret
Number of tool stations
ea
12
12[24] (BMT65)
Turning tool shank size
mm
25
25
Boring bar diameter
mm
50
50
Turret index time(next station swivel time)
sec
0.20
0.20
Rotary tool speed
rpm
-
5000
Rotary tool motor (Cont./Max)
kW
-
3.7/5.5
Tailstock
Quill diameter
mm
110
110
Quill stroke
mm
100
100
Spindle taper
MT
MT5
MT5
Machine
Size (with Side Chip conveyor) L×W×H
mm
3,125(4,230) × 1,610 × 1,937
Size (with Rear Chip conveyor) L×W×H
mm
-
-
Required floor space (LxWxH)
mm
5100
5800
Coolant tank capacity
Liter
175
200
Electric power supply
kVA/V
34/220
34/220
Controller
FANUC, SIEMENS